Demystifying bridal fabrics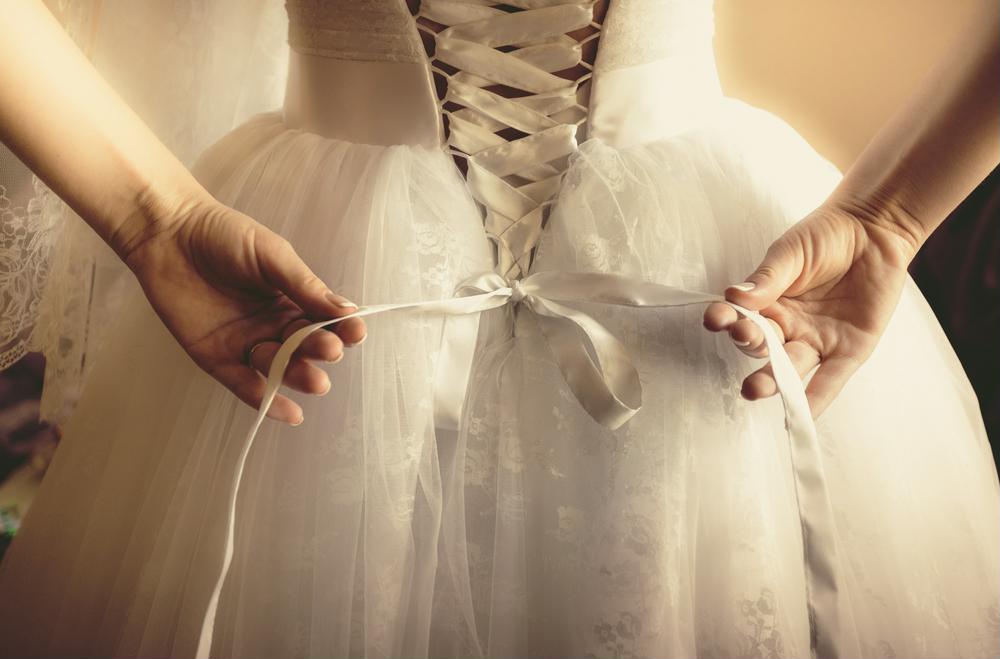 The Hint Registry demystifies bridal fabrics Bridal fabrics on your mind? The Hint Registry knows that while you are putting together your perfect gift registry, you are also engaged in the search for the perfect wedding gown. Wedding gowns are constructed from luxurious couture-grade fabrics, not all of which may be familiar to modern misses. In days of yore, when most women were able amateur seamstresses, the swathe of bridal fabrics may not have presented quite the same, sometimes baffling or even intimidating, experience. So let The Hint Registry show you around the bridal fabric atelier.
By the way, we can't help but notice that many of the words are as beautiful and evocative as the fabrics themselves. The words trip off the tongue like the fabrics kiss the body. Seriously, what poet can be behind such linguistic aesthetics as "silk", "organza", "taffeta", "chiffon", "Georgette" and "damask"? Say them out loud and see what we mean.
Seduced? Well, then, let's describe these luxurious and sensuous materials and how they are used in bridal fashions. chiffon: ultra-lightweight and often made from silk, delicate chiffon is similar to georgette but even more sheer and light, and gives beautifully flowing silhouettes crepe: one for the bold and the beautiful, this soft and thin fabric with a crinkled texture is a figure-hugging beauty that drapes and clings damask: often a silk, damask refers to floral or geometric patterns woven into the fabric in a raised texture, and is a lighter choice than the heavier brocade that it resembles duchess satin: this is a silk and rayon blend with a lightweight yet strong texture ideal for constructed shapes dupioni: with a similar sheen to shantung, this popular bridal choice is a silk blend with a slightly coarser texture faille: a more structured silk, it tailors more beautifully than most while having a glossy sheen and finely ribbed texture georgette: often made from silk, georgette is crepe-like in texture, sheer and superlight in weight and with a matte texture, and wonderfully suited to summer gowns moire: a silk that is heavy and crisp in feel, moire is ideal for colder weather organza: another silk, with a light weight and sheer, crisp translucency, it creates structure and volume peau de soie: a high-quality soft satin with a grainy lustre, peau de soie is perfect for draped constructions satin: many a bride's choice for skirts due to its smoothness, density and weight, it has a lovely sheen that flatters constructed silhouettes shantung: a silk with texture similar to that of raw silk and a little smoother than dupioni, this is a time-honoured choice for wedding gowns silk: the definitive luxury choice for many a bride, this comes in innumerable permutations, some of which we describe here. Its famous shimmer is due to its fibres being shaped like little prisms that refract incoming light producing a spectrum taffeta: with a crisp, papery texture that makes a famous soft rustling sound, taffeta comes in a variety of weights tulle: a silk that is the fabric of choice for veils, tulle is similar to organza but a little stiffer, and is also especially fitting for creating volume in full skirts